Leaf Expression Systems Launch SupraVec ® the Next Generation in Plant-Based Expression Technology
NORWICH, UK – 07 September 2021: Leaf Expression Systems (Leaf), a biotechnology company specialising in plant-based expression, today announced the launch of SupraVec®, Leaf's new proprietary vector-based expression technology for the rapid production of proteins, vaccines and complex biomolecules within the leaf tissue of plants.
SupraVec is a plant transient expression system designed with novel expression components to optimise yields. The expression technology delivers a three-fold improvement in the yield compared to Leaf's previous pEAQ-HT system, also known as Hypertrans® (figure 1). The increased yield achieved by SupraVec will enable viable expression of a larger number of products and reduce the cost of goods for Leaf's clients.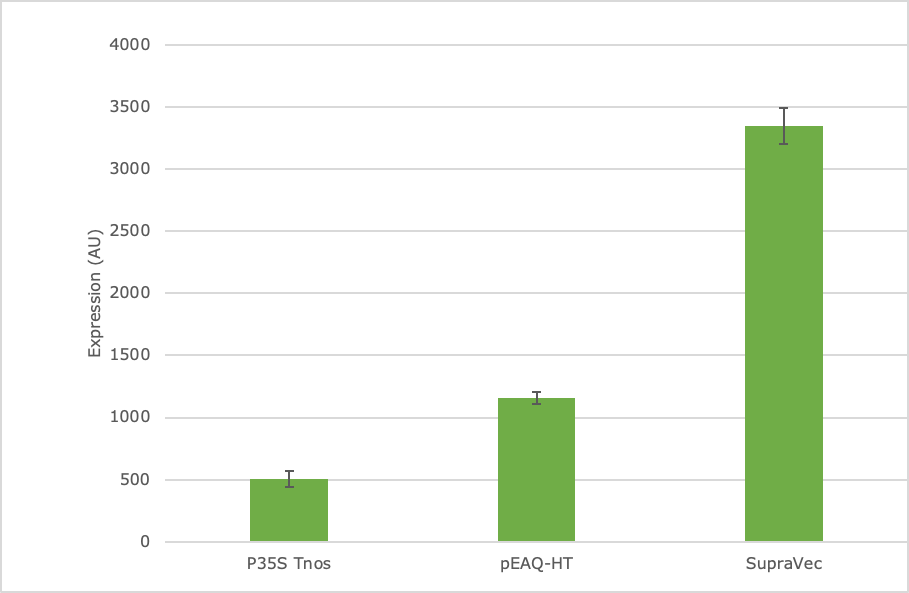 Simon Saxby, CEO:
The launch of SupraVec, our new proprietary expression technology, is a significant milestone for Leaf and greatly enhances the options we can offer our clients for expression and scale-up manufacture of their biologics. SupraVec is the result of excellent work by the Leaf team, led by Dr Nick Holton and Dr Albor Alonso- Dobon, and I am delighted that their efforts have led to this impressive and valuable achievement.
Nick Holton, Principal Scientist – R&D:
We are striving to obtain the highest possible protein yields, and the development of the SupraVec technology greatly enhances the level of protein that we can obtain during plant transient expression. This technology is a significant leap forward and will improve protein yields and the economics of plant transient expression.